Policy Management

The Anti-Spam & Email Security Platform
SonicWall streamlines inbound and outbound email policy management. For instance, administrators can easily customize rules to simply detect and block specific types of attachments; reroute e-mail from competitors; or check all outbound e-mail for specific words and phrases.
Creating policies.
SonicWall Email Security can create powerful policy rules for both inbound and outbound email. For either, the interface is the same and there are three steps:
Create the test
Determine the action
Set the applicability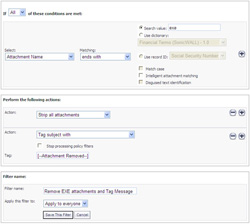 Inbound and Outbound Policy Creation
Create the test.
SonicWall Email Security allows you to create one or more tests that check various parts or an email. Examples: "If message subject contains the word gambling" or "If message is from [email protected]."
2 Determine the action.
The next step is to determine the action if a match is successful. One or more actions can be taken, if applicable. Examples: 1) "Log as event" and also "Permanently Delete", or 2) "Tag the subject of this message with 'PHI enclosed'". Also at this point you can stop processing policy filters for a given email if desired, this is useful when you have several policies and the first one "catches" the message and no additional policy processing is desired.
3 Set the applicability.
The final step is to set applicability of the policy. Using LDAP groups, you can define policy groups within SonicWall Email Security and apply those groups to any policy. Example, if a file attachment is an EXE file, strip the attachment, BUT only apply this policy to the Engineering policy group.