SonicWall ViewPoint

Reporting Software
SonicWall ViewPoint software is easy to install and maintain, allowing multiple users to log in simultaneously and generate reports specific to their areas of responsibilities. Traffic over wired and wireless LAN, WAN or VPN networks are illustrated based on information and events received from SonicWall appliances. Furthermore, SonicWall ViewPoint provides customizable and scheduled reports in a variety of exportable formats that aid organizations in preparing for regulatory compliance audits.

Key Features & Benefits:
Comprehensive set of graphical reports includes firewall attacks, bandwidth usage, Web site visits, user activity, which provides visibility into suspicious activity and employee productivity.
"At-a-Glance" reporting provides a customizable view that illustrates multiple summary reports on a single page, helps users navigate to vital network metrics and allows them to quickly analyze data across a variety of reports.
Compliance reporting gives administrators the capability to generate and view reports that fulfill compliance requirements. Delivered both on an ad-hoc and scheduled basis, these reports can be saved as templates for future use and customized for specific corporate regulatory mandates.
Multi-threat reporting provides the ability to collect information on thwarted attacks and gives instant access to threat activity on SonicWall's Network Security appliances using the Gateway Anti-Virus, Anti-Spyware and Intrusion Prevention Service.
User-based reporting tracks users' activities locally or on remote network sites, resulting in a greater understanding of usage behavior across the entire network.
Automated report scheduling provides support for e-mailing and archiving daily/weekly/monthly reports through a variety of exportable formats, allowing users to share data with the management team or archive for future reference.
Ubiquitous access simplifies reporting access by allowing administrators to view all reporting functions from any location using only a standard Web browser.
New attack intelligence offers more granular reporting on the type of attack or intrusion, as well as the source of the attack, enabling administrators to react faster to incoming threats.
Multiple concurrent sessions allows multiple users to log in and generate reports simultaneously on the system, yielding greater flexibility without compromising performance.
System Requirements:
Minimum System Requirements
Operating System:
Microsoft : Windows 2000 Server (SP4), Windows 2000 Professional (SP4), Windows XP, Professional (SP2), Windows 2003 Server (SP1)
Hardware for ViewPoint Server:
x86 Environment: Minimum 3 GHz processor single-CPU Intel processor, 2 GB RAM, and 100 GB disk space
Java:
Java Plug-in version 1.5 or later
Supported SonicWall Appliances:
SonicWall Network Security appliances: TZ Series, PRO Series, SonicWall CSM appliances, SonicWall SSL-VPN appliances
Supported Internet Browsers:
Microsoft Internet Explorer 7.0, Mozilla Firefox 1.5 or higher
Supported SonicWall Firmware:

SonicWall Network Security appliances: SonicWall Firmware 6.1.2.0 or higher, and SonicOS Standard 1.0 or higher, and SonicOS Enhanced 2.0 or higher.
SonicWall CSM appliances: SonicWall 1.0 or higher.
SonicWall SSL-VPN appliances: SonicWall SSL-VPN Firmware 1.5.0.3 or higher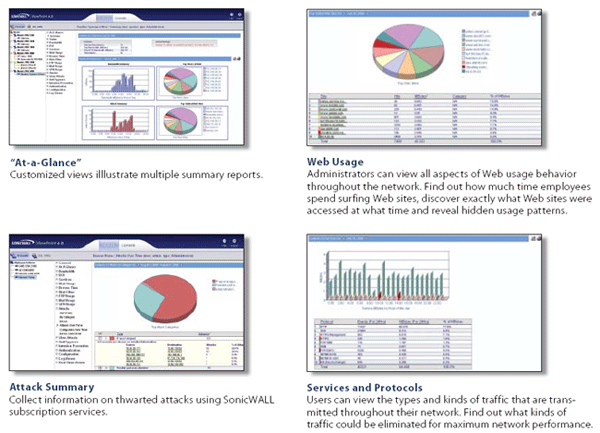 Documentation:
Download the SonicWall ViewPoint Datasheet (.PDF)