SonicWALL VPN Clients

Virtual Private Network (VPN) for secure remote access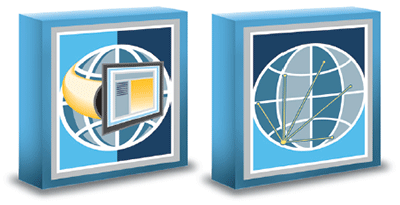 SonicWALL VPN Clients
IPSec Global VPN Clients
Global VPN Client for Windows - 1 License
#01-SSC-5310
List Price: $98.00
Our Price: $83.00
Global VPN Client for Windows - 5 Licenses
#01-SSC-5316
List Price: $420.00
Our Price: $357.00
Global VPN Client for Windows - 10 Licenses
#01-SSC-5311
List Price: $675.00
Our Price: $573.00
Global VPN Client for Windows - 50 Licenses
#01-SSC-5313
List Price: $1,164.00
Our Price: $989.00
Global VPN Client for Windows - 100 Licenses
#01-SSC-5314
List Price: $1,555.00
Our Price: $1,321.00
Global VPN Client for Windows - 1,000 Licenses
#01-SSC-2897
List Price: $7,812.00
Our Price: $6,641.00
UTM SSL VPN Licenses
Customers Please Note: SSL VPN Licenses CANNOT be shared across multiple SonicWALL Devices.
UTM SSL-VPN 1 User License
#01-SSC-8629
List Price: $98.00
Our Price: $83.00
UTM SSL-VPN 5 User Licenses
#01-SSC-8630
List Price: $420.00
Our Price: $357.00
UTM SSL-VPN 10 User Licenses
#01-SSC-8631
List Price: $675.00
Our Price: $573.00
UTM SSL-VPN 15 User Licenses
#01-SSC-6111
List Price: $733.00
Our Price: $623.00
UTM SSL-VPN 25 User Licenses
#01-SSC-8632
List Price: $880.00
Our Price: $748.00
UTM SSL-VPN 50 User Licenses
#01-SSC-8633
List Price: $1,164.00
Our Price: $989.00
UTM SSL-VPN 100 User Licenses
#01-SSC-6112
List Price: $1,856.00
Our Price: $1,578.00
UTM SSL-VPN 250 User Licenses
#01-SSC-6113
List Price: $3,712.00
Our Price: $3,155.00
UTM SSL-VPN 500 User Licenses
#01-SSC-6117
List Price: $6,062.00
Our Price: $5,153.00
UTM SSL-VPN 1000 User Licenses
#01-SSC-6118
List Price: $11,538.00
Our Price: $9,807.00
VPN Client Overview:
Businesses large and small need to address the growing demands of more distributed work sites and an increasingly mobile workforce in order to compete in today's global marketplace. Remote access has become a business imperative.
SonicWALL VPN Clients offer a flexible easy-to-use, easy-to-manage Virtual Private Network (VPN) solution that provides distributed and mobile users with secure, reliable remote access to corporate assets via broadband, wireless and dial-up connections. For remote client-to-host secure access, SonicWALL offers both SSL VPN and IPSec VPN connectivity options. For SSL VPN, SonicWALL NetExtender provides thin client connectivity and clientless Web-based remote access for Windows, Windows Mobile, Mac and Linux-based systems. For IPSec VPN, SonicWALL Global VPN Client enables the client system to download the VPN client for a more traditional client-based VPN experience.
Enhanced layered security
Easy VPN management
Ease-to-follow wizards
Extended user reach and productivity
VPN session reliability
Clientless connectivity
NetExtender technology
Mobile device support
Features and Benefits:
Enhanced layered security is enabled when a SonicWALL Network Security Appliance uses powerful deep packet inspection technology to scan VPN traffic for malicious threats such as viruses, worms, Trojans and spyware. The combined solution is known as SonicWALL Clean VPN*.
Easy VPN management SonicWALL's award-winning Global Management System (GMS) provides simplified management of SonicWALL VPN Client connections.
SSL VPN for Network Security:
NetExtender - Clientless connectivity removes the need for a pre-installed or "fat" VPN client, thus freeing administrators from the tedious and costly task of installing and updating a client on users' Windows, Mac or Linux-based systems.
NetExtender technology provides enhanced capabilities such as network level access to additional resources, services and applications on the corporate network.
Mobile device support to access an entire intranet as well as Web-based applications provides greater flexibility for a remote workforce.
Global VPN Client:
Easy-to-follow wizards help users install and configure a VPN connection quickly and easily. IPSec VPN users simply enter the domain name or IP address of the SonicWALL VPN gateway and the Global VPN Client configuration policy is automatically downloaded.
Extended user reach and productivity by connecting from any single or dualprocessor computer running one of a broad range of Microsoft® Windows® platforms. Further extending secure remote access, the Global VPN Client enables encapsulated VPN traffic to traverse any IP network using Network Address Translation (NAT).
VPN session reliability provides simultaneous Global VPN Client connections that can be established to multiple SonicWALL VPN gateways. The Global VPN Client supports redundant SonicWALL VPN gateways to ensure mission-critical network access in the event the primary gateway fails.
*Clean VPN requires an active Gateway Anti-Virus, Anti-Spyware and Intrusion Prevention subscription for the governing SonicWALL network security appliance.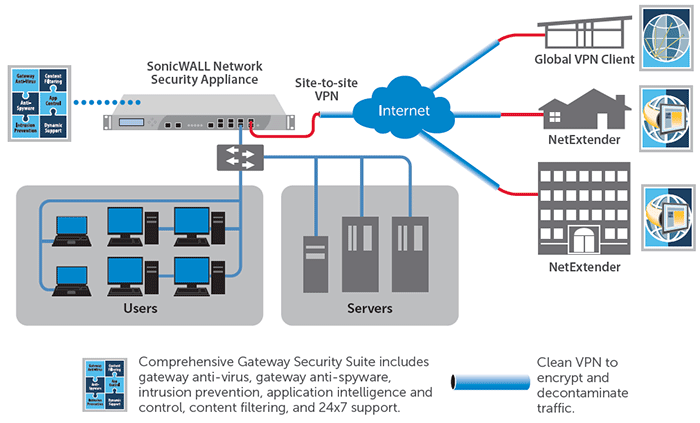 VPN CLient License Bundles:
Hardware:
SSL VPN Client Licenses
Bundled/Max
Global VPN Client Licenses
Bundled/Max
TZ 105/TZ 105W Series
1/5
0/5
TZ 205/TZ 205W Series
2/10
2/10
TZ 215/TZ 215W Series
2/10
2/25
NSA 220 Series
2/15
2/25
NSA 250M Series
2/15
2/25
NSA 2400
2/25
10/250
NSA 2600
2/25
10/250
NSA 3500
2/30
50/1,000
NSA 3600
2/30
50/1,000
NSA 4500
2/30
500/3,000
NSA 4600
2/30
500/3,000
NSA 5000
2/30
500/3,000
NSA 5600
2/50
2,000/4,000
NSA 6600
2/50
2,000/6,000
NSA E5500
2/50
2,000/4,000
NSA E6500
2/50
2,000/6,000
NSA E7500
2/50
2,000/10,000
NSA E8500
2/50
2,000/10,000
NSA E8510
2/50
2,000/10,000
System Requirements for NetExtender
Hardware
TZ 105, 205, 215 Series, NSA or E-Class NSA Series Appliance
Firmware/OS
Requires firmware version 5.2 or higher

Windows 2000, 2003, XP/Vista (32-bit and 64-bit) Win Mobile 5 (Pocket PC), Win Mobile 6 (Classic/Professional), MacOS 10.4+ (PowerPC and Intel), Linux Fedora Core 3+ / Ubuntu 7+ / OpenSUSE

System Requirements for Global VPN Client
Hardware
Requires third-, fourth- or fifthgeneration SonicWALL network security appliance
Firmware/OS

Requires firmware version 6.4.2 or higher or SonicOS 3.0 or higher
IBM-compatible computer with an Intel/AMD processor
Not supported by XP Home SP2 64 Bit Edition

Available Hard Disk Space
28 MB
RAM
512 MB
Network Connection
Ethernet network interface card with NDIS compliant driver and/or dial-up adapter (internal or external modem, ISDN terminal adaptor) or wireless LAN
Technical Specifications for Global VPN Client
IPSec Modes
ESP (Encapsulated Security Payload)
Encryption Algorithms
DES (56-bit), 3DES (168-bit), AES (256-bit)
Data Integrity
MD5, SHA-1
Authentication and Key Management
IKE (Internet Key Eschange)
User Authentication
RADIUS with XAUTH, Local User, LDAP, Microsoft Active Directory, Novell eDirectory
Certificate Support
Microsoft, Verisign, Entrust
Standards and RFCs Supported
ESP Tunnel Mode, IKE (ISAKMP/Oakley): Internet RFCs Supported Key Exchange (RFC2407-2409), NAT-Traversal (IETF drafts), X.509 v3 certificates: (RFC2459), PKCS #7: Cryptographic Message Syntax Standard (RFC2315), PKCS #12: Personal Information Exchange Syntax Standard, FIPS Pub 46-1: Data Encryption Standard, FIPS Pub 180-1: Secure Hash Standard, Microsoft Vista 32-bit