TZ350 and SOHO 250 Competitive Trade In Promo

TZ350 and SOHO 250 Competitive Trade In Promo


SonicWall Competitive Trade In Products
SonicWall TZ350
SonicWall TZ SOHO 250
Looking for more trade in options? Please contact or call us!
---
Promotion Details
SonicWall customers receive an aggressive discount when you trade-in a competitors firewall for a SonicWallSOHO 250 or TZ350 with three (3) year subscription for services and support.
When you replace your competitive hardware with SonicWall, you gain the latest in next-generation firewall technology and access to the SonicWall Capture Advanced Threat Protection (with RTDMI) service. It's a cloud-based, multi-engine sandbox that discovers and stops over 1,400 unknown, new, and zero-day cyberattacks every business day on customer networks. Promotion ends January 31, 2021.
---
Promotional Products
SonicWall TZ350/ TZ SOHO 250
The SonicWall TZ series enables small to mid-size organizations and distributed enterprises realize the benefits of an integrated security solution that checks all the boxes. Combining high-speed threat prevention and software-defined wide area networking (SD-WAN) technology with an extensive range of networking and wireless features plus simplified deployment and centralized management, the TZ series provides a unified security solution at a low total cost of ownership.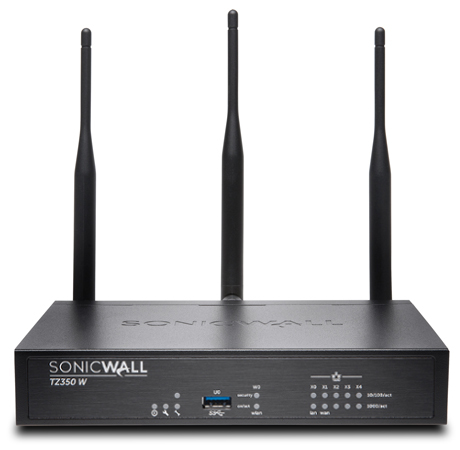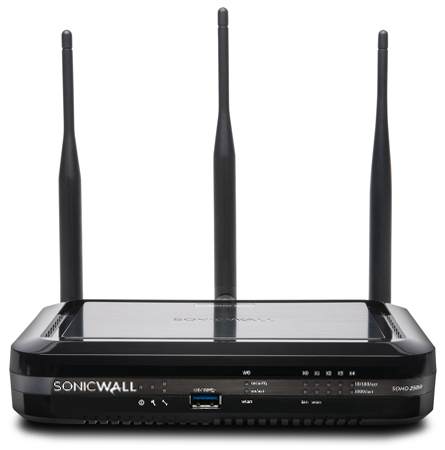 SonicWall TZ350 Wireless/ TZ SOHO 250 Wireless
Distributed retail businesses and campus environments can take advantage of the many tools in SonicOS to gain even greater benefits. Branch locations are able to exchange information securely with the central office using virtual private networking (VPN). Creating virtual LANs (VLANs) enables segmentation of the network into separate corporate and customer groups with rules that determine the level of communication with devices on other VLANs. SD-WAN offers a secure alternative to costly MPLS circuits while delivering consistent application performance and availability. Deploying TZ firewalls to remote locations is easy using Zero-Touch Deployment which enables provisioning of the firewall remotely through the cloud.
SonicWall SOHO 250 and TZ 350 Competitive Trade-in SKUs
SONICWALL TZ350 COMPETITIVE TRADE-IN ADVANCED EDITION 3YR
02-SSC-4464
SONICWALL TZ350 WIRELESS-AC COMPETITIVE TRADE-IN ADVANCED EDITION 3YR
02-SSC-4465
SONICWALL SOHO 250 COMPETITIVE TRADE-IN ADVANCED EDITION 3YR
02-SSC-4467
SONICWALL SOHO 250 WIRELESS-N COMPETITIVE TRADE-IN ADVANCED EDITION 3YR
02-SSC-4468
---
Contact us for more information!