SonicWall TotalSecure Email

TotalSecure Email Appliances and Software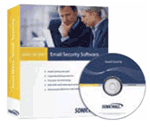 Sorry, this product is no longer available, please contact us for a replacement.
Overview:

SonicWall TotalSecure Email provides complete protection for both inbound and outbound e-mail by providing award-winning anti-spam, anti-virus, anti-phishing, and policy and compliance management in an easy-to-use solution. For organizations with up to 750 users there is simply no easier way to get complete e-mail protection.
To select the appropriate SonicWall TotalSecure Email solution for your organization, choose the platform, appliance or Windows software, and the number of users in the organization—that's it. Complete e-mail protection in one convenient, aff ordable package.
TotalSecure Email Software

Install on a Windows Server:

For Microsoft Windows 2000 Server or Microsoft Windows 2003 Server

Minimum system requirements:

CPU: 266 GHz
RAM: 1 GB
40GB free hard disk space

Models available:

TotalSecure Email 25
TotalSecure Email 50
TotalSecure Email 100
TotalSecure Email 250
TotalSecure Email 750

TotalSecure Email Appliance

Comes with TotalSecure Email Software installed:

Appliance is a 1U Mini Chassis.

Models available:

TotalSecure Email 50
TotalSecure Email 100
TotalSecure Email 250
TotalSecure Email 750
Benefits & Features:
Benefits:
Award-winning anti-spam engine coupled with end-to-end attack monitoring ensures the most effective and current protection from spam attacks.
McAfee™ anti-virus combined with SonicWall's Time Zero Technology and zombie protection provides complete e-mail anti-virus technology. Time Zero Virus Technology protects customers from the time a virus outbreak occurs until the time a signature update is available.
Corporate phishing protection ensures that organizations are protected from identity theft. SonicWall delivers the only solution that uniquely identifies phishing e-mails and enables administrators to handle these messages independently from spam e-mails.
Inbound and outbound e-mail policy management capabilities enable IT to quickly create and enforce corporate and regulatory e-mail policies. For example, an organization can block executables or limit the size of inbound e-mail messages, add disclaimers to outbound e-mail or block e-mail going to competitors.
Regulatory compliance framework helps organizations become compliant by automating the requirements set forth by laws such as HIPAA, SOX and GLBA. SonicWall Email Security intelligently identifies e-mail that violates compliance policies, monitors and reports the problem and uses policy-based routing to approval boxes to ensure proper review and disposition of e-mail that fail to meet organizational or regulatory requirements.
Rapid installation and ease-of-management drastically reduces the burden to implement and maintain an in-house e-mail security solution. Taking no more than an hour to install, and as little as 10 minutes a week to manage, SonicWall Email Security is the easiest yet most effective solution available.
E-mail archiving for all or specific inbound and outbound e-mails and with SonicWall's powerful auditing capability it is easy to locate any e-mail in the archive.
End-user spam management allows easy delegation of spam management to end users, reducing false positives and lessening the load on IT. This flexibility enables organizations to handle the diff ering needs of its employees while maintaining control over the e-mail system.
Robust reporting provides easily customizable, system-wide and granular reporting, including information on attack types, solution effectiveness and system performance. Reports can be scheduled and delivered via email as needed.
Around-the-clock protection is ensured as each TotalSecure E-mail solution comes with 24x7 customer support coverage.
Features:
Award-winning anti-spam engine
McAfee™ anti-virus
Corporate phishing protection
Inbound and outbound e-mail policy management
Regulatory compliance framework
Rapid installation and ease-of-management
E-mail archiving
End-user spam management
Robust reporting
Around-the-clock protection
Specifications:
TotalSecure Email
25
50
100
250
750
Features
Users:
Up to 25
Up to 50
Up to 100
Up to 250
Up to 750
Appliance:
Not Available
#01-SSC-7380
Not Available
Not Available
#01-SSC-7382
Software:
#01-SSC-7389
#01-SSC-7390
#01-SSC-7396
#01-SSC-7391
#01-SSC-7392
Email Protection:
(Anti-Spam, Anti-Phishing)
Yes
Yes
Yes
Yes
Yes
Dynamic 24x7 Support:
Yes
Yes
Yes
Yes
Yes
McAfee Anti-Virus Subscription:
(Includes Time Zero and Zombie Protection)
Yes
Yes
Yes
Yes
Yes
Email Compliance Subscription:
Yes
Yes
Yes
Yes
Yes
TotalSecure Email Features (Appliance & Software)
Threat Protection
Inbound and outbound e-mail protection in one system
Yes
Anti-spam
Yes
Anti-Phishing identified separately
Yes
McAfee anti-virus
Yes
Time Zero Virus protection
Yes
Connection Management with IP Reputation
Yes
DHA, DoS, and other edge attack protection
Yes
LDAP/Exchange Accelerator
Yes
Inbound and Outbound E-mail Management
Robust policy management
Yes
Archiving
Yes
Attachment Dictionaries
Yes
Auditing
Yes
Approval boxes/Workflow
Yes
Installation and Management
Compatible with all e-mail servers
Yes
Unlimited domains
Yes
Group and user management
Yes
End-user quarantine and settings
Yes
Junk Box Summary actionable e-mail
Yes
Monitoring, reporting and log management
Yes
Clustering and remote Clustering
Yes
Support
24x7 customer support coverage
Yes
1 Business day RMA for appliances
Yes
Pricing Notes:
All Prices are Inclusive of GST
Pricing and product availability subject to change without notice.