SonicWall TZ 205 Wireless Series

Uncompromising Security and Performance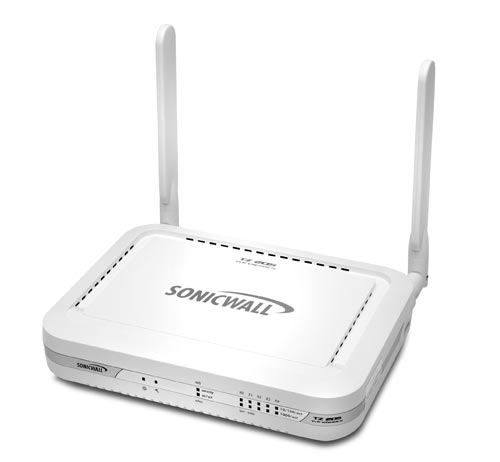 Overview:

The SonicWall® TZ Series is the most secure Unified Threat Management (UTM) firewall for small businesses, retail deployments, remote sites, branch offices and distributed enterprises. Unlike consumer-grade products, the TZ Series delivers the most effective anti-malware, intrusion prevention, content/URL filtering and application control capabilities along with the broadest most secure mobile platform support for laptops, smartphones and tablets. It provides full deep packet inspection (DPI) at very high performance levels, eliminating the network bottleneck that other products introduce, and enabling organizations to realize increased productivity gains. The TZ Series is the most secure, sophisticated and widely-deployed security platform on the market today.
Additionally, the SonicWall Application Intelligence and Control capabilities in the TZ 215 ensures that bandwidth is available for business-critical applications while throttling or blocking unproductive applications. The TZ 215 also offers advanced application traffic analytics and reporting for deep insight into bandwidth utilization and security threats.
The TZ Series includes additional advanced networking features such as IPSec and SSL VPN, multiple ISP failover, load balancing, optional integrated 802.11n wireless and network segmentation, and also enables PCI compliance. The TZ Series is the only available UTM firewall that provides native VPN remote access client for Apple® iOS, Google® Android™, Windows, Mac OS and Linux. This unique client also supports Clean VPN™, which decontaminates threats from VPN traffic. Providing the most secure support for mobile platforms, only SonicWall delivers full malware scanning of SSL encrypted traffic and application control for Android and iOS devices.
The new TZ Series is an elegant integration of multiple point products, combined into a single solution providing value while reducing complexity.
Built on the proven security architecture of SonicOS, the TZ Series provides highly effective anti-malware and intrusion prevention to keep networks safe from sophisticated modern threats.
Highly secure SSL VPN remote access is available natively for Apple iOS, Google Android, Windows, Mac OS and Linux based devices to unleash the potential of a mobile workforce.
SonicWall content and URL filtering blocks multiple categories of objectionable web content to enable high workplace productivity and reduce legal liability.
Easy to comprehend and quick to deploy, the graphical user interface in the TZ Series eliminates the choice between ease-of-use and power, driving down total cost of ownership.
* U.S. Patent 7,310,815-A method and apparatus for data stream analysis and blocking.
** Available as an option only on the TZ 210 Series
Features and Benefits:
SonicWall TZ Series Features:
Intrusion Prevention
Signature-based Scanning
Tightly integrated, signature-based intrusion prevention scans packet payloads for vulnerabilities and exploits that target critical internal systems.
Automatic Signature Updates
SonicWall's Research Team continuously updates and deploys an extensive list of over 5,400 IPS signatures covering 52 attack categories. These signatures take immediate effect and do not require reboots or any other interruption in service.
Outbound Threat Prevention
The ability to inspect both inbound and outbound traffic ensures that the network will not unwittingly be used in Distributed Denial of Service attacks and will prevent any Command and Control Botnet communication.
Intra-Zone IPS Protection
Intrusion prevention can be deployed between internal security zones to protect sensitive servers and to prevent internal attacks.
VPN
IPSec VPN for Site-to-site Connectivity
High-performance IPSec VPN allows the firewall to connect remote branch offices to a central location.
SSL VPN or IPSec Client Remote Access
Utilize clientless SSL VPN technology or an easy-to-manage IPSec client for easy access to email, files, computers, intranet sites and applications from a variety of platforms.
Redundant VPN Gateway
When using multiple WANs, a primary and secondary VPN can be configured to allow seamless automatic failover and failback of all VPN sessions.
Route-based VPN
The ability to perform dynamic routing over VPN links ensures continuous uptime in the event of a temporary VPN tunnel failure by seamlessly re-routing traffic between endpoints through alternate routes.
Clean VPN
SonicWall Clean VPN™ both secures the integrity of VPN access and decontaminates malicious threats before they can enter the corporate network.
Gateway Threat Prevention
Gateway Anti-Malware
SonicWall's patented RFDPI engine scans all ports and protocols for viruses without file size or stream length limitation. SonicLabs Researchers constantly provide updated threat protection, providing faster response times and threat prevention.
Reassembly-Free Deep Packet (RFDPI)
Reassembly-Free Deep Packet Inspection keeps track of malware regardless of the order or inspection timing with which the packets arrive. This allows for extremely low latency while eliminating file and stream size limitations. This provides greater performance and security than outdated proxy designs which reassemble contents using sockets bolted to traditional anti-virus programs and are plagued with inefficiencies and the overhead of memory thrashing leading to high latency, low performance and size limitations.
Cloud Anti-Virus (AV)
Using the built-in RFDI engine, SonicWall can leverage the power of the cloud to provide the most comprehensive set of anti-malware signatures available, while minimizing latency or delay. The SonicWall Cloud Anti-Virus Service provides millions of additional malware signatures for inspection of executable files using the most up-to-date information available.
Bi-directional Inspection
RFDPI can be performed on both inbound and outbound connections to provide protection in all network traffic directions.
24x7 Signature Updates
SonicLabs Research Team team creates and updates signature databases that are propagated automatically to the firewalls in the field, with those signatures taking immediate effect without any reboot or service interruption required.
Firewall and Networking
Stateful Packet Inspection
All network traffic is inspected, analyzed and brought into compliance with firewall access policies.
DOS Attack Protection
SYN Flood protection provides defense against DOS attacks using both layer 3 SYN proxy and layer 2 SYN blacklisting technologies.
Flexible Deployment
Can be deployed in traditional NAT and Layer 2 Bridge modes.
Policy-based Routing
Create routes based on protocol to direct traffic to a preferred WAN connection with the ability to fail back to a secondary WAN in the event of an outage.
High Availability
Supports Active/Passive failover to ensure increased reliability by protecting against hardware or software faults.
WAN Load Balancing
Load balance up to four WAN interfaces using Round Robin, Spillover or Percentage based methods.
WAN Acceleration
WAN Acceleration decreases latency and increases transfer speeds between remote sites for even higher network efficiency gains.
VoIP
Advanced QoS
Guarantee critical communications with 802.1p and DSCP tagging and remapping of VoIP traffic on the network.
DPI of VoIP Traffic
Predefined signatures detect and block VoIP specific threats.
H.323 Gatekeeper and SIP Proxy Support
Block spam calls by requiring that all incoming calls are authorised and authenticated by H.323 gatekeeper or SIP proxy.
Management and Monitoring
Web GUI
An intuitive web-based interface allows quick and convenient configuration in addition to management through SonicWall Global Management System (GMS®), or the CLI.
SNMP
SNMP provides the ability to protectively monitor and respond to threats and alerts.
Netflow/IPFIX
Export an extended set of data through IPFIX or NetFlow protocols for granular insight into application traffic, bandwidth utilization and security threats in addition to powerful troubleshooting and forensics capabilities. Compatible with SonicWall Scrutinizer and third-party monitoring and reporting applications. (TZ 215 only)
Centralized Policy Management
With SonicWall GMS, monitor, configure and report on multiple SonicWall appliances from a single intuitive interface and customize your security environment to suit your individual policies.
Application Intelligence and Control
Application Control
Identify and control applications or individual components of an application based on RFDPI technology instead of relying on well-known ports and protocols.
Application Bandwidth Management
Allocate bandwidth to critical applications while throttling unproductive application traffic for an efficient and productive network.
Custom Application Identification
Create and configure custom application identification based on traffic parameters or on patterns unique to an application in its network communications.
Application Trafic Analytics
Provides organizations with granular insight into application traffic, bandwidth utilization and security in addition to powerful troubleshooting and forensics capabilities. (TZ 215 only)
Application Signature Database
A continuously expanding database of over 3,500 application signatures ensures that administrators are able to control the usage of all the latest applications on their network at a category or individual level.
User Activity Tracking
User identification is seamlessly integrated with Microsoft® Active Directory and other authentication systems enabling tracking and reporting of individual user identification.
GeoIP Country Traffic Identification
Identify and control network traffic going to or coming from specific countries. (TZ 215 only)
Deployment: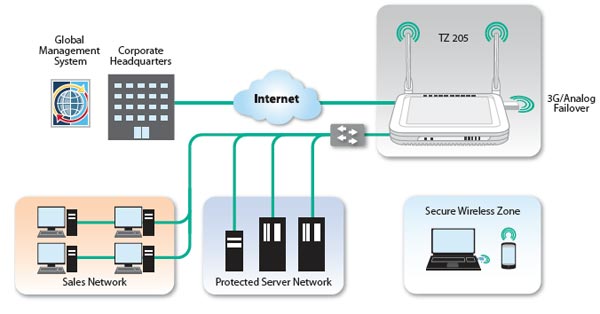 Small businesses, retail deployments, government organizations, remote sites and branch offices can benefit from the powerful security and business-class performance of the new SonicWall TZ 205. Unlike consumer grade products, this powerful Unified Threat Management (UTM) firewall combines the most effective intrusion prevention, anti-malware and content/URL filtering with the broadest, most secure mobile platform support for laptops, smartphones and tablets. By providing full deep packet inspection (DPI) at very high performance levels, it eliminates the tradeoff between comprehensive security and performance.
Specifications: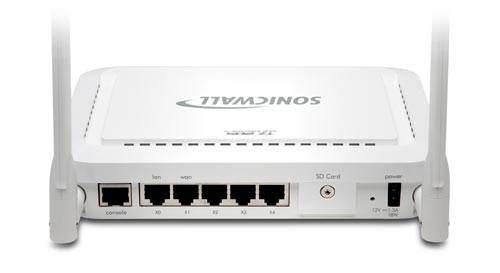 Models:
TZ 105 Series
TZ 205 Series
TZ 215 Series
Firewall
SonicOS Version
SonicOS 5.8.1 and later
Stateful Throughput1
200 Mbps
500 Mbps
500 Mbps
IPS Throughput2
60 Mbps
80 Mbps
110 Mbps
GAV Throughput2
40 Mbps
60 Mbps
70 Mbps
UTM Throughput2
25 Mbps
40 Mbps
60 Mbps
Maximum Connections3
8,000
12,000
48,000
Maximum UTM/DPI Connections
8,000
12,000
32,000
New Connections/Sec
1,000
1,500
1,800
Nodes Supported
Unrestricted
Denial of Service Attack Protection
22 classes of DoS, DDoS and scanning attacks
SonicPoints Supported
1
2
16
VPN
TZ 105 Series
TZ 205 Series
TZ 215 Series
3DES/AES Throughput4
75 Mbps
100 Mbps
130 Mbps
Site-to-Site VPN Tunnels
5
10
20
Bundled Global VPN Client Licenses (maximum)
0 (5)
2 (10)
2 (25)
Bundled SSL VPN Licenses (maximum)
1 (5)
1 (10)
2 (10)
Encryption/Authentication/DH Group
DES, 3DES, AES (128, 142, 256-bit), MD5, SHA-1, SHA-2/DH Group 1, 2, 5, 14
Virtual Assist Bundled (Maximum)
-
30-day trial (1)
30-day trial (2)
Key Exchange
IKE, Manual Key, Certificates (X.509), L2TP over IPSec
Certificate Support
Verisign, Thawte, Cybertrust, RSA Keon, Entrust and Microsoft CA for SonicWall-to-SonicWall VPN, SCEP
VPN Features
Dead Peer Detection, DHCP Over VPN, IPSec NAT Traversal, Redundant VPN Gateway, Route-based VPN
Global VPN Client Platforms Supported
Microsoft® Windows XP, Vista 32/64-bit, Windows 7 32/64-bit
SSL VPN Platforms Supported
Microsoft Windows XP/Vista 32/64-bit/Windows 7, Mac OSX 10.4+, Linux FC3+/Ubuntu 7+/OpenSUSE
Mobile Connect Platform
Apple® iOS 4.2 or higher, Google® Android™ 4.0 or higher
Security Services
TZ 105 Series
TZ 205 Series
TZ 215 Series
Deep Packet Inspection Services
Gateway Anti-Virus, Anti-Spyware, Intrusion Prevention, Application Intelligence and Control (TZ 215 only)
Content Filtering Service (CFS)
HTTP URL, HTTPS IP, keyword and content scanning, ActiveX, Java Applet, and cookie blocking bandwidth management on filtering categories, allow/forbid lists
Enforced Client Anti-Virus and Anti-Spyware
McAfee®
Comprehensive Anti-Spam Service6
Supported
Application Intelligence and Control
Application Control
Application Traffic Visualization and Advanced Application Control
Networking
TZ 105 Series
TZ 205 Series
TZ 215 Series
IP Address Assignment
Static, (DHCP, PPPoE, L2TP and PPTP client), Internal DHCP server, DHCP relay
NAT Modes
1:1, 1:many, many:1, many:many, flexible NAT (overlapping IPs), PAT, transparent mode
VLANs
5, Portshield
10, Portshield
10, Portshield
DHCP
Internal server, relay
Routing
OSPF, RIP v1/v2, static routes, policy-based routing, multicast
Authentication
LDAP, Local DB, RADIUS, XAUTH, X-Forwarders8
Single sign-on
AD, eDirectory, RADIUS Accounting, NTLM, X-Forwarders8
AD, eDirectory, RADIUS Accounting, NTLM, X-Forwarders8, Terminal Server and Citrix
Local User Database
150 users
VoIP
Full H.323v1-5, SIP, gatekeeper support, outbound bandwidth management, VoIP over WLAN,deep inspection security, full interoperability with most VoIP gateway and communications devices
System
TZ 105 Series
TZ 205 Series
TZ 215 Series
Zone Security
Yes
Yes
Yes
Schedules
Yes
Yes
Yes
Object-based/Group-based Management
Yes
Yes
Yes
DDNS
Dynamic DNS providers include: dyndns.org, yi.org, no-ip.com and changeip.com
Management and Monitoring
Local CLI, Web GUI (HTTP, HTTPS), SNMP v3; Global management with SonicWall GMS
Logging and Reporting
Analyzer, Scrutinizer, GMS, Local Log, Syslog, Solera Networks, NetFlow v5/v9 (TZ 215), IPFIX with Extensions (TZ 215), Real-time Visualization (TZ 215 only)
Hardware Failover
-
Active/Passive
Active/Passive
Anti-Spam
RBL support, Allowed/Blocked Lists, Optional SonicWall Comprehensive Anti-Spam Service6
Load Balancing
Yes, Outgoing and Incoming
Standards
TCP/IP, UDP, ICMP, HTTP, HTTPS, IPSec, ISAKMP/IKE, SNMP, DHCP, PPPoE, L2TP, PPTP, RADIUS, IEEE 802.3
WAN Acceleration Support7
Yes, with SonicWall WXA appliances
Built-in Wireless LAN
TZ 105W Series
TZ 205W Series
TZ 215W Series
Standards
802.11b/g/n
802.11a/b/g/n (3x3)
802.11a/b/g/n (3x3)
Wireless Security Standards
WEP, WPA, WPA2, 802.11i, TKIP, PSK,02.1x, EAP-PEAP, EAP-TTLS
Virtual Access Points (VAPs)
Up to 8
Antennas
Double, detachable, dual
Triple: 2 external detachable, 1 internal
Triple, detachable, external
Radio Power: 802.11b/802.11g/802.11n
18 dBm max/18 dBm @ 6Mbps, 15 dBm @ 54Mbps
15.5 dBm max/18 dBm max/17 dBM @ 6 Mbps, 13 dBM @ 54 Mbps
Radio Power: 802.11a/802.11b/802.11g/802.11n
-
15.5 dBm max/18 dBm max/17 dBM @ 6 Mbps, 13 dBM @ 54 Mbps
Radio Power: 802.11n (2.4GHz)/802.11n (5.0GHz)
19 dBm MCS 0, 12 dBm MCS 15
19 dBm MCS 0, 11 dBm MCS 15/17 dBm MCS 0, 12 dBm MCS 15
Radio Receive Sensitivity:
802.11a/802.11b/802.11g
-90 dBm @ 11Mbps/-91 dBm @ 6 Mbps, -74 dBm @54 Mbps
-95 dBm MCS 0, -81 dBm MCS 15/-90 dBm @ 11Mbps/-91 dBm @ 6Mbps, -74 dBm @ 54 Mbps
Radio Receive Sensitivity:
802.11n (2.4GHz)/802.11n (5.0GHz)
-89 dBm MCS 0, -70 dBm MCS 15
-89 dBm MCS 0, -70 dBm MCS 15/-95 dBm MCS 0, -76 dBm MCS 15
Hardware
TZ 105 Series
TZ 205 Series
TZ 215 Series
Interfaces
(5) 10/100 Fast Ethernet, 1 USB, 1 Console
(5) 10/100/1000 Copper Gigabit, 1 USB, 1 Console
(7) 10/100/1000 Copper Gigabit, 2 USB, 1 Console
Processor
Single-Core
Dual-Core
Dual-Core
Flash Memory/RAM
32 MB/256 MB
32 MB/256 MB
32 MB/512 MB
3G Wireless/Modem5
Supported with approved adapters5
USB Ports
1
1
2
Power Input
100 to 240 VAC, 50-60 Hz, 1 A
Max Power Consumption
5.2W/7.0W
6.4W/10.5W
9.0W/12.0W
Total Heat Dissipation
17.8 BTU/23.7 BTU
21.9 BTU/35.8 BTU
30.6 BTU/41.4 BTU
Certifications
VPNC, ICSA Firewall 4.1
Certifications Pending
EAL4+, FIPS 140-2 Level 2, IPv6 Phase 1, IPv6 Phase 2
Dimensions
5.555 x 1.42 x 7.48 in
(14.1 x 3.6 x 19 cm)
5.555 x 1.42 x 7.48 in
(14.1 x 3.6 x 19 cm)
7.125 x 1.5 x 10.5 in
(18.1 x 3.81 x 26.67 cm)
Weight
0.75 lbs/0.34 kg
0.84 lbs/0.38 kg
0.75 lbs/0.34 kg
0.84 lbs/0.38 kg
1.95 lbs/0.97 kg
2.15 lbs/0.97 kg
Major Regulatory Compliance
FCC Class A, CES Class A, CE, C-Tick, VCCI, Compliance MIC, NOM, UL, cUL, TUV/GS, CB, NOM, WEEE, RoHS
Environment/Humidity
40-105° F, 0-40° C/ 5-95% non-condensing
MTB
28 years/15 years
1 Testing Methodologies: Maximum performance based on RFC 2544 (for firewall). Actual performance may vary depending on network conditions and activated services.
2 UTM/Gateway AV/Anti-Spyware/IPS throughput measured using industry standard Spirent WebAvalanche HTTP performance test and Ixia test tools. Testing done with multiple flows through multiple port pairs.
3 Actual maximum connection counts are lower when DPI services are enabled.
4 VPN throughput measured using UDP traffic at 1280 byte packet size adhering to RFC 2544.
5 3G card and modem are not included. See http://www.sonicwall.com/us/products/cardsupport.html for supported USB devices.
6 The Comprehensive Anti-Spam Service supports an unrestricted number of users but is recommended for 250 users or less.
7 With SonicWall WXA Series Appliances.
8 Web proxy using X-Forwarded-For
Pricing Notes:
All Prices are Inclusive of GST
Pricing and product availability subject to change without notice.
SonicWall Products
UTM SSL VPN Licenses
SonicWall Firewall SSL VPN 1 User License
#01-SSC-8629
List Price: $112.00
Our Price: $100.13
SonicWall Firewall SSL VPN 5 User License
#01-SSC-8630
List Price: $481.00
Our Price: $428.72
SonicWall Firewall SSL VPN 10 User License
#01-SSC-8631
List Price: $772.00
Our Price: $686.79
Global VPN Client for Windows
SonicWall Global VPN Client Windows - 1 License
#01-SSC-5310
List Price: $112.00
Our Price: $100.13
SonicWall Global VPN Client Windows - 5 Licenses
#01-SSC-5316
List Price: $481.00
Our Price: $428.72
SonicWall Global VPN Client Windows - 10 Licenses
#01-SSC-5311
List Price: $772.00
Our Price: $686.79