SonicWall Secure Mobile Access (SMA) Series

Provide Secure, Mobile and Remote Access for your SMB
Simple, affordable mobility and remote access options for SMB. Let authorised users access resources from anywhere to increase productivity. Block untrusted users, devices and apps and prevent mobile malware attacks.
SMA 100 Series Products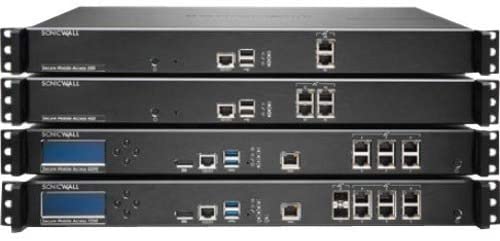 Give businesses with up to 50 users an affordable, secure remote access solution that is easy to deploy, use and manage, with the SonicWall SMA 210 appliance.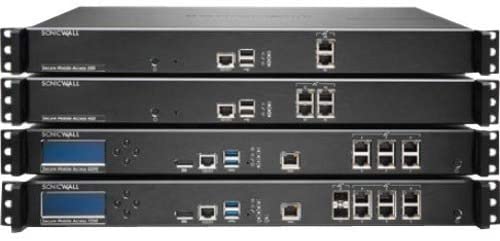 Give businesses with up to 250 users an affordable, secure remote access solution that is easy to deploy, use and manage, with the SonicWall SMA 410 appliance.
---
Overview:
Empower your workforce with mobility and BYOD, and simplify access management when moving to the cloud. SonicWall Secure Mobile Access is a unified secure access gateway that provides best-in-class SSL VPN, context aware device authorization, application level VPN and advanced authentication with federated single sign-on (SSO) for cloud and on-premises resources.
---
SECURE MOBILE ACCESS (SMA)
Grant access only to trusted devices and authorised users
Consolidate access management for hybrid IT environments
Improve your security posture and reduce the surface area for threats
Deploy as hardened physical appliances or powerful virtual appliances
VPN CLIENTS
Deploy the VPN client that suits your needs
Deliver policy-enforced secure remote access
Provide support for multiple platforms
---
SECURE ACCESS MANAGEMENT & REPORTING
Streamline SMA appliance management and reporting
Decrease capital costs with high availability clusters
Reduce maintenance overhead by automating and scheduling routine tasks
SMA WEB APPLICATION FIREWALL
Integrate Web Application Firewall (WAF) for 24 x 7 protection against OWASP Top 10 Attacks
Secure Web Applications running in a private, public or hybrid cloud environment
Provide resilience thro' HA pair and regulatory compliance like PCI-DSS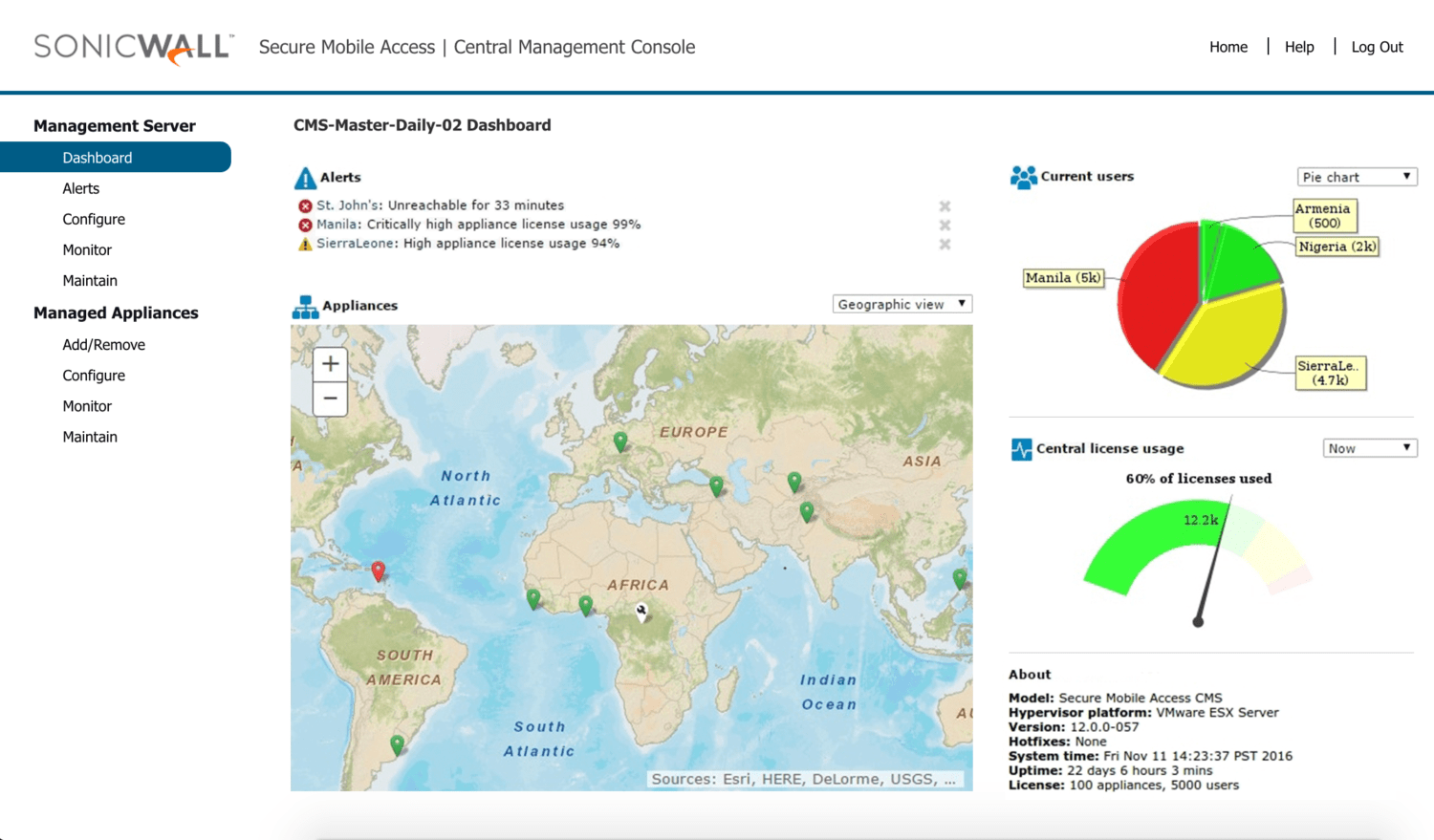 Features & Benefits:
CONSOLIDATE ACCESS MANAGEMENT WHILE MOVING TO THE CLOUD
Provide secure access to data center, cloud and SaaS resources from a single portal
Enable federated single sign-on (SSO) using SAML 2.0 authentication
Reduce complexity in access management for hybrid IT environments
EMPOWER YOUR WORKFORCE WITH MOBILITY AND BYOD
Deliver seamless secure access experience with always-on connection
Check integrity and health profile of the connecting device
Get complete application access control using per-app VPN
---
PREVENT BREACHES AND ADVANCED THREATS
Prevent malicious files from being uploaded into your network
Protect against DDoS and zombie attacks from compromised endpoints
Enforce stacked multi-factor authentication for added security
DELIVER BEST-IN-CLASS SECURE ACCESS AND MINIMIZE SURFACE THREATS
Enforce granular access control policies
Get high-performance layer-3 SSL VPN
Gain visibility into every connecting device
Deliver browser-based clientless secure access
Provide flexible proxy options with authentication and SSL offloading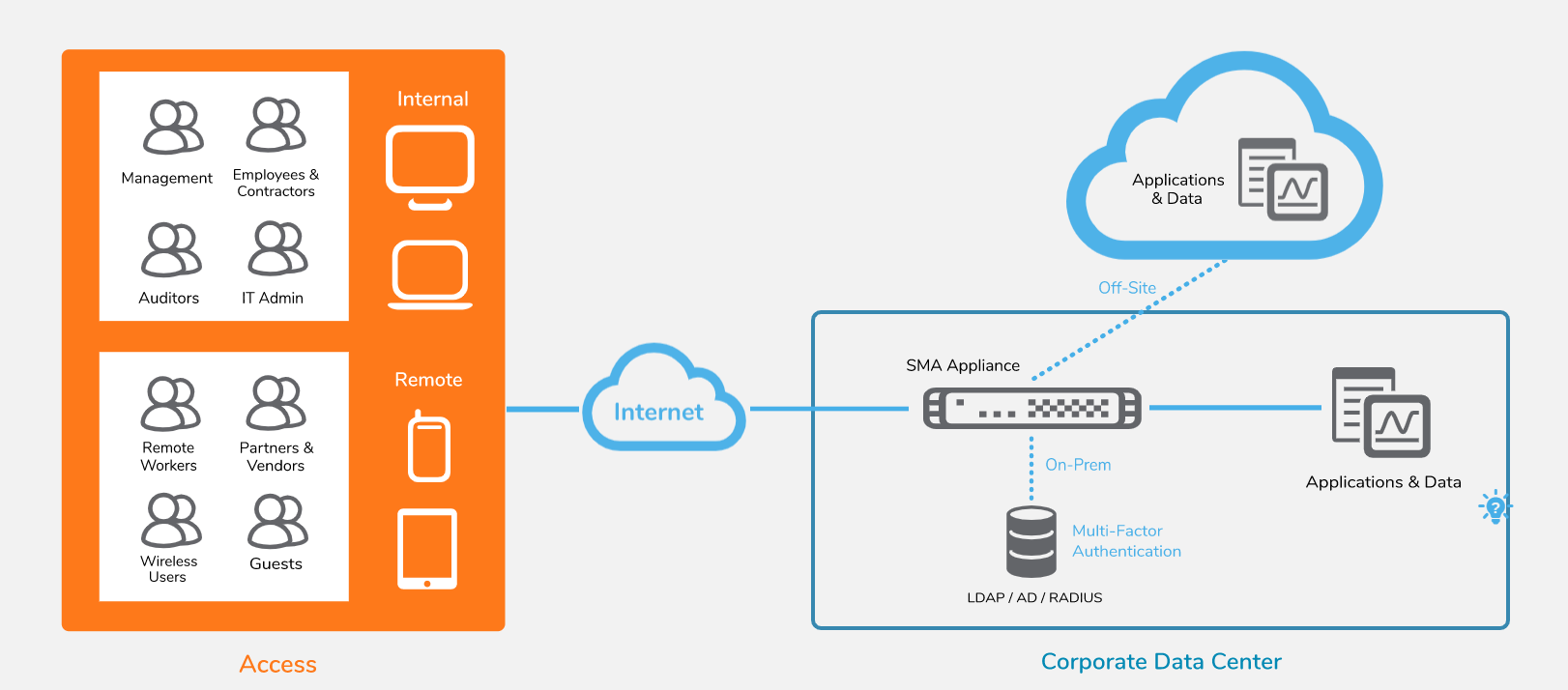 DATA LEAK PREVENTION (DLP)
Prevents data theft via data masking and page-blocking techniques
Bar attackers from gaining access to users' accounts and all accounts on web servers with extensive access security controls
Forbid invalidated redirects that send users to unsafe webpages and unauthorised page forward to restricted pages
Restrict access to internal resources based on host, subnet, protocol, URL path, and port
ACCELERATE APPLICATION DELIVERY
Enable caching, compression and other HTTP/TCP optimizations to accelerate application delivery
Reduce workload and boost performance by offloading SSL transactions
Perform Layer-7 load balancing to distribute the load across clustered web servers
Monitor health of the web servers and failover traffic to ensure high availability
CROSS-VECTOR THREAT INTELLIGENCE
Leverage SonicWall Capture Labs which gathers, analyzes, and vets cross-vector threat information from a variety of sources, including a million globally placed sensors. This culminates in our ability to stop cross-vector threats across our broad product portfolio including SonicWall WAF. Coupled with Capture ATP, we defend your web applications from known and unknown threats.
CAPTURE ADVANCED THREAT PROTECTION (ATP)
Revolutionizes advanced threat detection and sandboxing with a cloud-based, multi-engine solution for stopping unknown and zero-day attacks at the gateway, and with automated remediation. Leverages the RTDMI engine which proactively blocks mass-market, zero-day threats and unknown malware accurately utilizing real-time memory-based inspection techniques.
Specifications:
PERFORMANCE
200
210
400
410
500V
6200
6210
7200
7210
8200V
Concurrent users
Up to 50 users
Up to 50 users
Up to 250 users
Up to 250 users
250
2000
2000
10000
10000
5000
Max SSL/TLS throughput
200 Mbps
560 Mbps
570 Mbps
844 Mbps
265 Mbps
400 Mbps
800 Mbps
3.75 Gbps
5 Gbps
1.58 Gbps
Form factor
1U
1U
1U
1U
n/a
1U
1U
1U
1U
n/a
Dimensions
16.92 x 10.23 x 1.75 in (43x26x4.5cm)
16.92 x 10.23 x 1.75 in (43x26x4.5cm)
16.92 x 10.23 x 1.75 in (43x26x4.5cm)
16.92 x 10.23 x 1.75 in (43x26x4.5cm)
n/a
17.0 x 16.5 x 1.75 in (43 x 41.5x 4.5 cm)
17.0 x 16.5 x 1.75 in (43 x 41.5x 4.5 cm)
17.0 x 16.5 x 1.75 in (43 x 41.5x 4.5 cm)
17.0 x 16.5 x 1.75 in (43 x 41.5x 4.5 cm)
n/a
Appliance weight
11 lbs (5 kgs)
11 lbs (5 kgs)
11 lbs (5 kgs)
11 lbs (5 kgs)
n/a
16 lbs (7.3 kgs)
17.7 lbs (8 kgs)
18.3 lbs (8.3 kgs)
18.3 lbs (8.3 kgs)
n/a
Storage Compact Flash
2GB Flash
4GB (Flash Memory)
2GB Flash
4GB (Flash Memory)
n/a
2 X 500 GB SATA
2 x 1TB SATA; RAID 1
2 X 500 GB SATA
2 x 1TB SATA; RAID 1
n/a
Interfaces
(2) GB Ethernet,
(2) USB,
(1) console
(2) GB Ethernet, (2) USB, (1) console
(4) GB Ethernet,
(2) USB,
(1) console
(4) GB Ethernet, (2) USB, (1) console
n/a
6 (6-port 1GE)
(6)-port 1GE, (2)USB,(1) console
8 (6-port 1GE + 2-port 10Gb SFP+)
(6)-port 1GE, (2)-port 10Gb SFP+, (2) USB, (1) console
n/a
Memory
2GB
4GB
4GB
8GB
2GB
8GB
8GB DDR4
16GB
16GB DDR4
8GB
Processor
2 cores
4 cores
4 cores
8 cores
1 core
4 cores
4 cores
4 cores
4 cores
4 cores
MTBF (@ 25°C or 77°F) in hours
61815
61815
60151
60151
n/a
200064
70127
233892
129601
n/a
Power
Fixed power supply
Fixed power supply
Fixed power supply
Fixed power supply
n/a
Fixed power supply
Fixed power supply
Dual power supply, hot swappable
Dual power supply, hot swappable
n/a
Input rating
100-240VAC, 50-60MHz
100-240VAC, 50-60MHz
100-240VAC, 50-60MHz
100-240VAC, 50-60MHz
n/a
100-240 VAC, 1.1 A
100-240 VAC, 1.1 A
100-240 VAC, 1.79 A
100-240 VAC, 1.79 A
n/a
Power consumption
26.9 W
26.9 W
31.9 W
31.9 W
n/a
78 W
77 W
127 W
114 W
n/a
Total heat dissipation
92 BTU
92 BTU
109 BTU
264 BTU
n/a
266 BTU
264 BTU
432 BTU
389 BTU
n/a
Environmental
WEEE, EU RoHS, China RoHS
WEEE, EU RoHS, China RoHS
WEEE, EU RoHS, China RoHS
WEEE, EU RoHS, China RoHS
n/a
WEEE, EU RoHS, Chin/ RoHS
WEEE, EU RoHS, Chin/ RoHS
WEEE, EU RoHS, Chin/ RoHS
WEEE, EU RoHS, Chin/ RoHS
n/a
Non-operating shock
110 g, 2 msec
110 g, 2 msec
110 g, 2 msec
110 g, 2 msec
n/a
110 g, 2 msec
110 g, 2 msec
110 g, 2 msec
110 g, 2 msec
n/a
Emissions
FCC, ICES, CE, C-Tick, VCCI; MIC
FCC, ICES, CE, C-Tick, VCCI; MIC
FCC, ICES, CE, C-Tick, VCCI; MIC
FCC, ICES, CE, C-Tick, VCCI; MIC
n/a
FCC, ICES, CE, C-Tick, VCCI; MIC
FCC, ICES, CE, C-Tick, VCCI; MIC
FCC, ICES, CE, C-Tick, VCCI; MIC
FCC, ICES, CE, C-Tick, VCCI; MIC
n/a
Safety
TUV/GS, UL, CE PSB, CCC, BSMI, CB scheme
TUV/GS, UL, CE PSB, CCC, BSMI, CB scheme
TUV/GS, UL, CE PSB, CCC, BSMI, CB scheme
TUV/GS, UL, CE PSB, CCC, BSMI, CB scheme
n/a
TUV/GS, UL, CE PSB, CCC, BSMI, CB scheme
TUV/GS, UL, CE PSB, CCC, BSMI, CB scheme
TUV/GS, UL, CE PSB, CCC, BSMI, CB scheme
TUV/GS, UL, CE PSB, CCC, BSMI, CB scheme
n/a
Operating temperature
0°C to 40°C
0°C to 40°C
0°C to 40°C
0°C to 40°C
n/a
0°C to 40°C
0°C to 40°C
0°C to 40°C
0°C to 40°C
n/a
(32°F to 104° F)
(32°F to 104° F)
(32°F to 104° F)
(32°F to 104° F)
(32°F to 104° F)
(32°F to 104° F)