SonicWall SD-Branch

Evolution of technology at the branch is essential. With digital transformation, traditional branches cannot keep up with increasing demands from multiplying mobile and IoT devices, driving increased adoption of cloud and SaaS applications. The increase in data demands more MPLS bandwidth. In conjunction, providing the necessary bandwidth over legacy WAN technologies expensive and hard to roll out without on-site personal.
As the cloud adoption picks up, WAN connectivity across the branches must be redesigned intelligently so as to leverage cheaper internet links over more expensive MPLS links. This can be done with SD-WAN technology which brings about operational agility and cost savings.
Typical Distributed Enterprise Network
| Challenges | Effect of the Challenges |
| --- | --- |
| Continuously evolving threat actors and threats | Increased attack surface and new attack vectors |
| Increasing mobility, SD-WAN/cloud/SaaS app adoption, and globalization | Unpredictable application performance |
| Use of point products | Lack of unified visibility and control, policy, compliance |
| Slow deployment roll out | Inability to scale, Less agile, Negative impact on time & money |
| Lack of cybersecurity skillset | Difficult to deploy and manage solutions |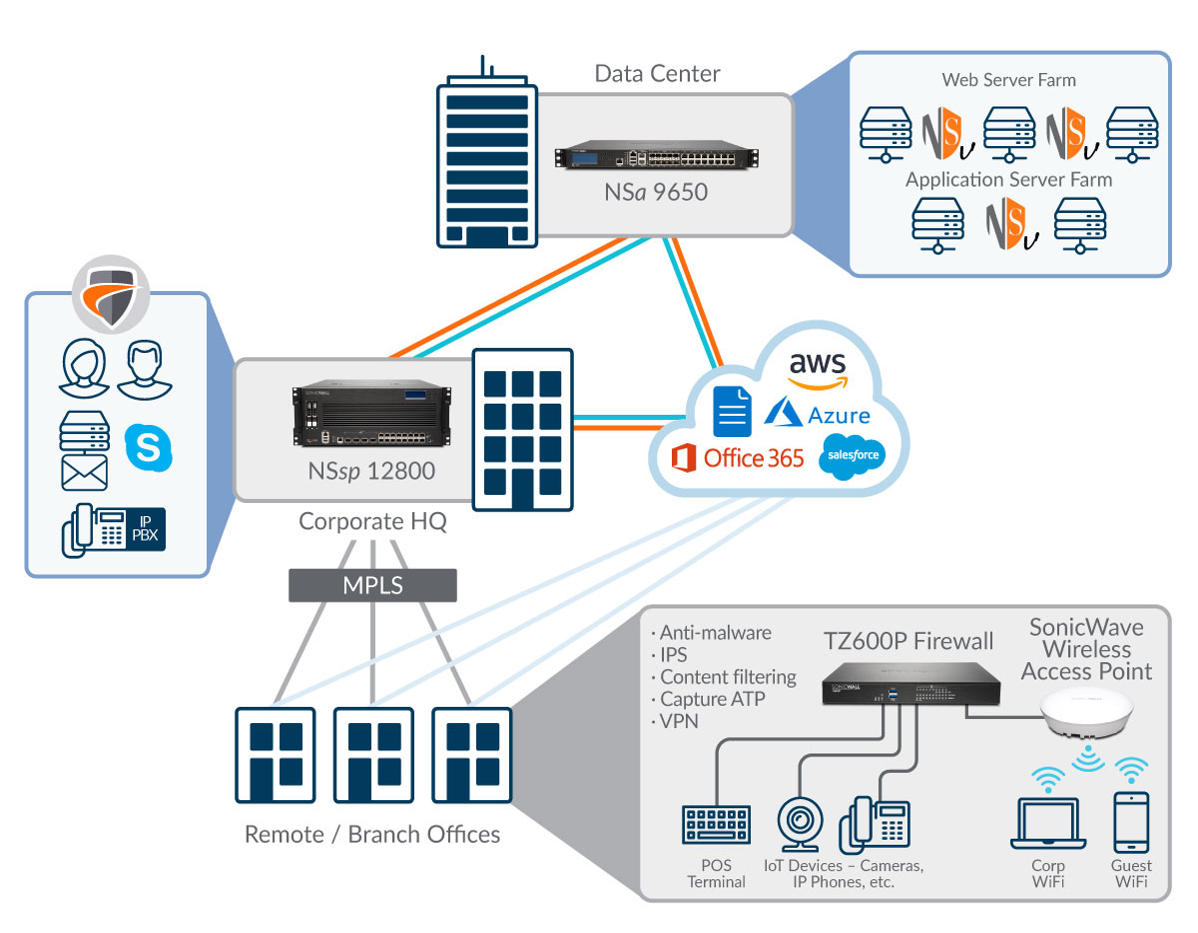 SonicWall Secure SD-Branch Solution
Quickly scale the SD-Branch solution across hundreds of locations with ZTD and cloud management. SonicWall ZTD allows organizations to quickly and securely configure firewalls, switches and APs at new locations without requiring advanced and costly on-site personnel. Once new products are brought online in remote locations, administrators can manage local and distributed networks through CSC.
SonicWall sees SD-Branch as a cornerstone of boundless security for the hyper-distributed era. An effective solution combines the agility of SD-Branch with end-to-end security, network segmentation and compliance. This enables unified policies across the network ecosystem, providing granular security controls to identify and prevent today's stealthiest and never-before-seen attacks from compromising your network.
---
Zero-Touch Deployment (ZTD) - SonicWall Secure SD-Branch