SonicWall NSA 6700 Network Security Appliance

Comprehensive Mid Range Next-Generation Firewall

SonicWall NSA 6700 Series
NSA 6700 Series
Secure Upgrade Plus
HA Conversion License to Standalone Unit
More pricing below, click here!

Please Note: All Prices are Inclusive of GST
Overview:
Defeating advanced threats requires an advanced firewall solution built for the needs of your business. The SonicWall Network Security appliance (NSa) Mid-Range Firewall is next-generation security designed specifically for businesses of 250 users and up. Work with the confidence of knowing you're protected against the day-to-day incursions as well as against advanced threats like ransomware, attacks against non-standard ports, and breaches in firewalls, all at the speed of business.
With cloud-based and on-box capabilities like TLS/SSL decryption and inspection, application intelligence and control, secure SD-WAN, real-time visualization, and WLAN management, SonicWall provides flexible, fast and cost-effective security to keep the threats out and your business thriving.
---
SonicWall Generation 7 (Gen 7) Network Security Appliance (NSa) next-generation firewalls (NGFWs) offers medium- to large-sized enterprises industry-leading performance at the lowest total cost of ownership in their class.
With comprehensive security features such as intrusion prevention, VPN, application control, malware analysis, URL filtering and IP reputation services, it protects the perimeter from advanced threats without becoming a bottleneck.
The Gen 7 NSa Series has been built from the ground up with the latest hardware components, all designed to deliver multi-gigabit threat prevention throughput - even for encrypted traffic. Featuring a high port density including multiple 1 GbE and 10 GbE ports, the solution supports network and hardware redundancy with high availability, clustering and dual power supplies.
Generation 7 - SonicOS 7.0 and Security Services
The Gen 7 NSa Series runs on SonicOS 7.0, a new operating system built from the ground up to deliver a modern user interface, intuitive workflows and user-first design principles. SonicOS 7.0 provides multiple features designed to facilitate enterprise-level workflows. It offers easy policy configuration, zero-touch deployment and flexible management - all of which allow enterprises to improve both their security and operational efficiency
The Gen 7 NSa Series supports advanced networking features, such as SD-WAN, dynamic routing, layer 4-7 clustering and high-speed VPN functionality. In addition to integrating firewall and switch capabilities, the appliance provides a single-pane-of-glass interface to manage both switches and access points.
Built to mitigate the advanced cyberattacks of today and tomorrow, the Gen 7 NSa Series offers access to SonicWall's advanced firewall security services, allowing you to protect your entire IT infrastructure. Solutions and services such as Cloud Application Security, Capture Advanced Threat Protection (ATP) cloud-based sandboxing, Real-Time Deep Memory Inspection (RTDMI™) and Reassembly-Free Deep Packet Inspection (RFDPI) - for all traffic including TLS 1.3 - offer comprehensive gateway protection from most stealthy and dangerous malware, including zero-day and encrypted threats.
---
Highlights
1 RU - Form Factor
16 x 1 GbE interfaces
3 x 10 GbE interfaces
2 Gbps Threat and Malware Analysis Throughput
Enterprise Internet Edge Ready
Latest Generation 7 SonicOS support
Secure SD-WAN capability
Intuitive single pane of glass management
TLS 1.3 support
Best-in-class price-performance
Fast DPI performance
Low TCO in its class
High port density for easy networking
SonicWall Switch, SonicWave Access Point and Capture Client integration
Redundant power
Features:
Blocks More Attacks with RTDMI™ - Real-Time Deep Memory Inspection (RTDMI™) proactively detects and blocks unknown malware via deep memory inspection in real time, a revolutionary approach to defend against zero-day and side-channel attacks and other unrecognized threats.
Secure Remote Workers - SonicWall NetExtender provides an intuitive SSL-VPN connection client that's easy to deploy and configure. Easily provide your remote workers with secure access to your corporate network from Linux, Mac and Windows devices.
Secure SD-WAN Technology - Leave MPLS behind for a more agile, more secure and more cost-effective network optimized for today's broadband-driven, cloud-infused landscape. Secure SD-WAN technology is built in to NSa firewalls, so there's no need to purchase additional SD-WAN appliances and licenses.
Built-in Wireless Controller - Implement high-speed wireless security by combining a NSa series next-generation firewall with a SonicWall SonicWave wireless access point. NSa series firewalls and SonicWave access points both feature 2.5 GbE ports that enable multi-gigabit wireless throughput offered in Wave 2 wireless technology.
Low Total Cost of Ownership - Make a SonicWall NSa firewall the start of enterprise savings. From reduced costs through zero-touch deployment to enabling SD-WAN and delivering NetSecOPEN-verified threat block rates on par or better than competitors at a fraction of the cost, SonicWall NSa firewalls are security you can't afford to be without.
Cloud-based & On-Premises Centralized Management - Gain greater visibility into your enterprise even as it becomes more complex on- and off-prem. Tightly integrated into the SonicWall ecosystem, bring your firewalls into a single-pane-of-glass management, licensing, reporting and analytics
High Performance and Port Density - Deploy next generation firewalls that are designed for mid-size and distributed enterprises to deliver much needed multi-gigabit threat prevention performance while providing high port density including 10 GbE ports for flexible network connectivity
Deployments:
Internet Edge Deployment
In this standard deployment option, the Gen 7 NSa Series NGFW protects private networks from malicious traffic coming from the internet, allowing you to:
Deploy a proven NGFW solution with highest performance and port density (including 10 GbE connectivity) in its class
Gain visibility and inspect encrypted traffic, including TLS 1.3, to block evasive threats coming from the Internet - all without compromising performance
Protect your enterprise with integrated security, including malware analysis, cloud app security, URL filtering and reputation services
Save space and money with an integrated NGFW solution that includes advanced security and networking capabilities
Reduce complexity and maximize efficiency using a central management system delivered through an intuitive singlepane-of-glass user interface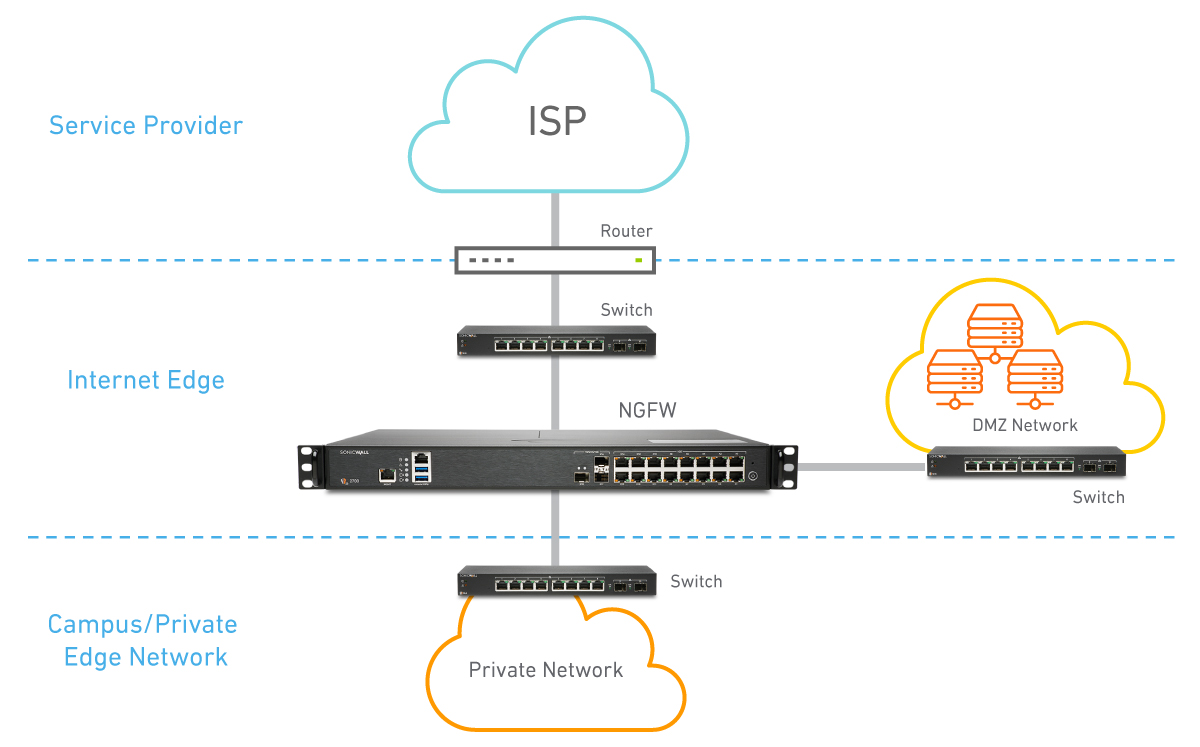 Medium and Distributed Enterprises
The SonicWall Gen 7 NSa Series supports SD-WAN and can be centrally managed, making it an ideal fit for medium and distributed enterprises. This deployment allows organizations to:
Future-proof against an ever-changing threat landscape by investing in a NGFW with multi-gigabit threat analysis performance
Provide direct and secure internet access to distributed branch offices instead of back-hauling through corporate headquarters
Allow distributed branch offices to securely access internal resources in corporate headquarters or in a public cloud, significantly improving application latency
Automatically block threats that use encrypted protocols such as TLS 1.3, securing networks from the most advanced attacks
Reduce complexity and maximize efficiency using a central management system delivered through an intuitive single pane of glass user interface
Leverage high port density that includes 10 GbE connectivity to support a distributed enterprise and wide area networks

Specifications:
FIREWALL GENERAL
NSA 2700 SERIES
NSA 3700 SERIES
NSA 4700 SERIES
NSA 6700 SERIES
Operating system
SonicOS 7.0
Interfaces
16x1GbE, 3x10G SFP+, 2 USB 3.0, 1 Console, 1 Management port
24x1GbE, 6x10G SFP+, 4x5G SFP+, 2 USB 3.0, 1 Console, 1 Mgmt. port
6 x 10G/5G/2.5G/1G (SFP+); 24 x 1GbE Cu 2 USB 3.0, 1 Console, 1 Management port
2x40G; 8x25G, 4 x10G/5G/2.5/1G SFP+, 4 x 10G/5G/2.5G/1G (Cu); 16 x 1GbE (Cu) 2 USB 3.0, 1 Console, 1 Mgmt. port
Storage
64GB M.2
128GB M.2
128GB
256GB M.2
Expansion
Storage Expansion Slot (Up to 256GB)
Storage Expansion Slot (Up to 256GB)
Storage Expansion Slot (Up to 1TB)
Storage Expansion Slot (Up to 1TB)
VLAN interfaces
256
256
512
512
Access points supported (maximum)
32
32
512
512
FIREWALL/VPN PERFORMANCE
NSA 2700
NSA 3700
NSA 4700
NSA 6700
Firewall inspection throughput1
5.2 Gbps
5.5 Gbps
18 Gbps
36 Gbps
Threat Prevention throughput2
3.0 Gbps
3.5 Gbps
9.5 Gbps
19 Gbps
Application inspection throughput2
3.6 Gbps
4.2 Gbps
11 Gbps
20 Gbps
IPS throughput2
3.4 Gbps
3.8 Gbps
10 Gbps
20 Gbps
Anti-malware inspection throughput2
2.9 Gbps
3.5 Gbps
9.5 Gbps
18.5 Gbps
TLS/SSL inspection and decryption throughput (DPI SSL)2
800 Mbps
850 Mbps
5 Gbps
9 Gbps
IPSec VPN throughput3
2.10 Gbps
2.2 Gbps
11 Gbps
19 Gbps
Connections per second
21,500
22,500
115,000
153,000
Maximum connections (DPI)
500,000
750,000
2,000,000
6,000,000
VPN
NSA 2700
NSA 3700
NSA 4700
NSA 6700
Site-to-site VPN tunnels
2,000
3,000
4,000
6,000
Encryption/authentication
DES, 3DES, AES (128, 192, 256-bit)/MD5, SHA-1, Suite B Cryptography
Key exchange
Diffie Hellman Groups 1, 2, 5, 14v
Route-based VPN
RIP, OSPF, BGP
VPN features
Dead Peer Detection, DHCP Over VPN, IPSec NAT Traversal, Redundant VPN Gateway, Route-based VPN
Global VPN client platforms supported
Microsoft® Windows 10
NetExtender
Microsoft Windows 10, Linux
Mobile Connect
Apple® iOS, Mac OS X, Google® Android™, Kindle Fire, Chrome OS, Windows 10
SECURITY SERVICES
NSA 2700
NSA 3700
NSA 4700
NSA 6700
Deep Packet Inspection services
Gateway Anti-Virus, Anti-Spyware, Intrusion Prevention, DPI SSL
Content Filtering Service (CFS)
HTTP URL, HTTPS IP, keyword and content scanning, Comprehensive filtering based on file types such as ActiveX, Java, Cookies for privacy, allow/forbid lists
Comprehensive Anti-Spam Service
Supported
Application Visualization
Yes
Yes
Yes
Yes
Application Control
Yes
Yes
Yes
Yes
Capture Advanced Threat Protection
Yes
Yes
Yes
Yes
DNS Security
Yes
Yes
Yes
Yes
NETWORKING
NSA 2700
NSA 3700
NSA 4700
NSA 6700
IP address assignment
Static, (DHCP, PPPoE, L2TP and PPTP client), Internal DHCP server, DHCP relay
NAT modes
1:1, 1:many, many:1, many:many, flexible NAT (overlapping IPs), PAT, transparent mode
Routing protocols4
BGP, OSPF, RIPv1/v2, static routes, policy-based routing
QoS
Bandwidth priority, max bandwidth, guaranteed bandwidth, DSCP marking, 802.1e (WMM)
Authentication
LDAP (multiple domains), XAUTH/RADIUS, SSO, Novell, internal user database, Terminal Services, Citrix, Common Access Card (CAC)
VoIP
Full H.323v1-5, SIP
Standards
TCP/IP, UDP, ICMP, HTTP, HTTPS, IPSec, ISAKMP/IKE, SNMP, DHCP, PPPoE, L2TP, PPTP, RADIUS, IEEE 802.3
Certifications
FIPS 140-2 (with Suite B) Level 2, IPv6 (Phase 2), ICSA Network Firewall, ICSA Anti-virus, Common Criteria NDPP (Firewall and IPS)
HARDWARE
NSA 2700
NSA 3700
NSA 4700
NSA 6700
Form factor
1U Rack Mountable
1U Rack Mountable
1U Rack Mountable
1U Rack Mountable
Power supply
60W
90W
1x350W
1x350W
Maximum power consumption (W)
21.5
36.3
135.8
139.2
Input power
100-240 VAC, 50-60 Hz
Total heat dissipation (BTU)
73.32 BTU
123.78 BTU
463.1 BTU
474.4 BTU
Dimensions
43 x 32.5 x 4.5 (cm) 16.9 x 12.8 x 1.8 in
43 x 46.5 x 4.5 (cm) 16.9 x 18.1 x 1.8 in
Weight
4.0 kg / 8.8 lbs
4.6 kg / 10.2 lbs
7.8 Kg
8.1 Kg
WEEE weight
4.2 kg / 9.3 lbs
4.8 kg / 10.6 lbs
9.6 Kg
9.9 Kg
Shipping weight
6.4 kg / 14.1 lbs
7 kg / 15.4 lbs
13.5 Kg
13.8 Kg
Environment (Operating/Storage)
32°-105° F (0°-40° C)/-40° to 158° F (-40° to 70° C)
Humidity
5-95% non-condensing
0-90% R.H non-condensing
REGULATORY
NSA 2700
NSA 3700
NSA 4700
NSA 6700
Major regulatory compliance (wired models)
FCC Class B, FCC , ICES Class B, CE (EMC, LVD, RoHS), C-Tick, VCCI Class B, UL/cUL, TUV/ GS, CB, Mexico DGN notice by UL, WEEE, REACH, BSMI, KCC/MSIP, ANATEL
*Future use.

1 Testing Methodologies: Maximum performance based on RFC 2544 (for firewall). Actual performance may vary depending on network conditions and activated services.

2 Threat Prevention/GatewayAV/Anti-Spyware/IPS throughput measured using industry standard Spirent WebAvalanche HTTP performance test and Ixia test tools. Testing done with multiple flows through multiple port pairs. Threat Prevention throughput measured with Gateway AV, Anti-Spyware, IPS and Application Control enabled.

3 VPN throughput measured using UDP traffic at 1280 byte packet size adhering to RFC 2544. All specifications, features and availability are subject to change.

4 BGP is available only on SonicWall TZ400, TZ500 and TZ470.

5 All TZ integrated wireless models can support either 2.4GHz or 5GHz band. For dual-band support, please use SonicWall's wireless access point products
Pricing Notes:
All Prices are Inclusive of GST
Pricing and product availability subject to change without notice.